Programs
In order to conserve resources and remain fiscally responsible, we are no longer printing a monthly newsletter. Please contact COA at 526-6368 if you would like to be emailed a monthly program list.
SEPTEMBER PROGRAMS

Tuesday, September 17th at 10:00am
Please call COA at 526-6368 to register
Learn about the flexible, part time job opportunities that Easterseals New Hampshire has to offer! They offer paid employment for those who might be looking to pick up a few hours a day or week. It's an opportunity to make a difference in the lives of others. Employment opportunities include Homemakers & Health Services, Youth Support Specialist, Direct Support Associate, and School Bus Driver or Monitor. Easter Seals mission is to provide exceptional services to ensure that all people with disabilities and their families have equal opportunities to live, learn, work and play in their communities.
_______________________________________________________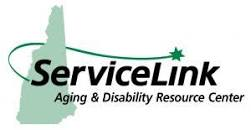 ServiceLink Information Workshop
Tuesday, September 24th at 9:30am
Please call COA at 526-6368 to register.
ServiceLink is a well-known, highly-regarded referral organization serving New Hampshire. Learn how you can receive assistance and connections to services for housing, chronic disease management, disability resources, caregiver support, Veteran's services, Medicare and Medicaid assistance, and much more.
ServiceLink Resource Center is here to help you find the right path for you and your family. Serving people of all ages, income levels and needs. This workshop is an important opportunity for you to learn more about this wonderful resource center BEFORE you many need support services!
_______________________________________________________

Shamballa Reiki Sessions
Tuesday, September 24th
Appointments from 10:00am – 3:00pm
Please call COA at 526-6368 to schedule an appointment.
Linda Luck of "Lady Luck healing therapies" will be accepting appointments for Shamballa Reiki at the Chapin Senior Center on the fourth Tuesday of each month from 10:00am - 3:00pm. During the Reiki sessions, Linda will be checking the Chakras (energy centers) of clients to look for blockages in their energy system. Upon the completion of the session, she will review what was found concerning the Chakras and give the client paperwork explaining what any blockages mean for the client's health and what can be done about it. Shamballa Reiki works on energy concerned with mental, emotional, physical and spiritual health. Sessions are 15 minutes in length and the cost is $15 per session.
__________________________________________________________
Tom & Tom's Men's Discussion Group - Mondays at 8:45am
We want to hear your stories and we'll share a few of our own. Come visit over an endless cup of coffee! This is a walk-in program.
French Discussion Group - First and Third Mondays at 4:15pm
Join this casual, friendly group to practice your language skills and have fun. Participants at all skill levels are welcome! This is a walk-in program.
Chair Exercises - Mondays and Fridays at 10:15am
This low impact exercise program is perfect for those looking for an easy, effective exercise routine. This is a walk-in program.
Walking at Proctor Academy Gym - Monday through Friday at 8:30-10:00am
Please call COA at 526-6368 for more information. This is a walk-in program.
Outdoor Recreation for Seniors - Tuesdays at 10:00am
Join this active group to bike, hike, kayak and more! Please see the weekly schedule listed at www.coachapincenter.org or call COA at 526-6368.
Memoir Writing Group - Tuesdays at 10:00am
This is a walk-in program.
Walk-In Painting Group - Tuesdays at 1:00pm
Bring your current painting project to work on. This is an informal group and we'd love to have you join us. This is a walk-in program.
Gentle Yoga – Second and Fourth Tuesdays from 3:00-4:00pm
Please call COA at 526-6368 to register. This wellness class will help you feel better and create a sense of inner calm as we focus on gaining flexibility, strength and balance. We will use yoga mats or chairs while we do yoga poses. At the end of each class there will be a time of relaxation. Gentle yoga is appropriate for all levels from beginner to experienced. Bring a yoga mat and wear comfortable clothing. Carol Filbin, Certified Yoga Teacher
Friends Program Bone Builders Exercise Classes
Tuesdays and Fridays at 10:00-11:00am
This senior exercise program helps strengthen bone, build muscle and improve balance. You can exercise while seated or standing using small hand weights. Classes are held in the Newbury Heights Community Room, 52 Newbury Heights Road, Newbury. This is a walk-in program.
Slower Spokes for Older Folks Bike Group - Wednesdays
This is an easier biking group for those who want time "to smell the roses" as well as get some exercise. Somewhat shorter rides, somewhat easier routes, and a more leisurely pace characterize this group. If you might be interested, please call COA at 526-6368. Suggestions for routes always welcome.
Line Dancing with Dee Connor - Wednesdays at 10:00am
Kearsarge Community Presbyterian Church, New London
Line dancing includes a variety of styles of dancing, needs no partner, and is lots of fun! An excellent form of exercise for both the mind and body. This is a walk-in program.
Needlework Craft Group - Wednesdays at 1:00-3:00pm
Love to cross stitch, do needlework, quilt, knit or crochet? We do, too! We'd love to chat, laugh, and get to know the folks who enjoy the same hobbies we enjoy. Please join us! This is a walk-in program.
Tai Chi - Wednesdays at 2:30pm
Kearsarge Community Presbyterian Church, New London, NH. This is a walk-in program.
Bike Group - Thursday mornings
The COA Bikers trek forth every Thursday morning from Spring through Fall for a 25-mile (more or less) bike ride from various locations in New Hampshire and occasionally, Vermont. Our goal is enjoying the scenery and getting a bit of exercise. Call COA at 526-6368 for more information or to be placed on the email contact list for schedule information. Weekly schedule also available at www.coachapincenter.org.
Women's Discussion Group - Fridays at 9:00am
Get to know your neighbors over a casual cup of coffee. Join friends, new and old, to visit, chat and share! This is a walk-in program.
Bridge
Duplicate Bridge – Mondays at 12:45pm and Wednesdays at 9:15am
Contract Bridge – Thursdays at 9:30am
Games
Poker – Tuesdays at 2:00pm
Hand and Foot Card Game– Wednesdays at 1:00pm
Mahjong - Thursdays at 12:30pm
Bingo! – Fridays at 2:00pm
Ten games for $5. Ten bingo sheets with 6 cards on each sheet. Participants must be 55 years old and older.
Parkinson's Support Group – Tuesday, September 3rd at 1:00pm
You are invited to join this lively, welcoming and supportive group! This is a walk-in program.
Morning Book Group - Tuesday, September 10th at 9:30am
A Gentleman in Moscow by Amor Towles
"Deemed unrepentant by a Bolshevik tribunal in 1922, Count Alexander Rostov is sentenced to house arrest in a hotel across the street from the Kremlin, where he lives in an attic room while some of the most tumultuous decades in Russian history unfold." ~ NoveList
This is a walk-in program. Please call COA at 526-6368 to obtain the book.
VNA Foot Care Clinic at COA
Friday, September 6th & September 13th at 9:30am-1:00pm
$25 Please call COA at 526-6368 to schedule an appointment.
Humanist, Agnostic, Atheist Discussion Group - Thursday, Sept. 19th at 1:30pm
Welcome to those who are interested in delving into a variety of humanist and non-theist topics. We share our knowledge and experiences related to the challenging questions of religion, spirituality, and how they influence our lives. Using reason, critical thinking, and honest examination, we do our best to approach personal truths. Bring your thoughts, your questions, and an open mind, and join our lively, respectful monthly discussions. This is a walk-in program.
Movie & Pizza Matinee - Tuesday, September 24th at 12noon
"Poms"
Please call COA at 526-6368 to sign up.
Martha is an introverted woman who moves to a retirement community. Hoping to be left alone, she meets Sheryl, a fun-loving neighbor who insists that they become best pals. After coming out of her shell, Martha and her new friend decide to form a cheerleading squad with their fellow residents. As the two women hold auditions, they soon learn that it's never too late to follow your dreams, even when the odds are stacked against you. There is no charge for this event. Come check out our new projector!
Caregiver Support and Discussion Group – Thursday, September 26th at 1:00pm
There is no instruction manual for being a caregiver! Join this peer-led group to learn tips, strategies and advice from those experiencing the same challenges and rewards. This is a walk-in program.
______________________________________________
September ORFS Schedule
September 3, 2019 – Perkins Pond, Sunapee, NH
Leaders: Steve and Cathy Priest 603-582-2413. Walkers and Kayakers meet at boat ramp off Perkins Pond Road.
Directions to Put-in: Exit 12 off Rte 89. Take Route 11 west. From exit 12 go six miles and you pass Sunapee Safety Complex on right. Turn right on Lower Sunapee Road. Go ¼ mile and take right on North Road. North Road makes a sharp right at top off hill. Continue on North Road and take left on Perkins Pond Road. At bottom of hill boat ramp is on left.
Directions to Priest's after paddle/hike (116 Mary's Road, Sunapee, NH 03782.) Go right from put-in on Perkins Pond Road. Go uphill, returning to North Road. Take right on North Road and go until stop sign. Turn right on Ryder Corner Road. Go down and then up a large hill. At top of hill take right on Melody Lane – a dirt road. Follow Melody Lane and stay on road when it bears right starting around Pond. Look for house #116. Desert will be provided. Bring chairs and bathing suits for swimming. There will be a pontoon boat ride around Perkins Pond.
Sept. 10, 2019 ENFIELD LAKESIDE PARK in Enfield, NH
Kayak leaders: Jim and Brenda Knight Home: 603-277-9306, (Cell: 603-727-8345).
Hike leaders: Nancy and George Smith Home: 802-436-2616, (Cell: 802-369-4048).
Kayakers will put in near the sailboat moorings, and explore Mascoma Lake. Hikers will walk on the rail trail along the lake. There are a porta-potty and some picnic tables at the park, but bring chairs for extra seating at lunch if you wish.

DIRECTIONS: From the New London area take Rte 89 North to Exit 17 and turn onto Rte 4 East. In 1.6 miles turn right onto Rte 4A and drive 2.3 miles along the lake, then take a left across the bridge. Shortly after the bridge (0.1 miles), turn right into the parking area.

Sept. 17th --- Dewey Beach, Sunapee
Kayak leader is Al Peterson, 603-763-5456 and hike leader, Skip Hause, 339-440-2256. Bring kayaks, chairs and lunch. We have full access to beachfront put -in and tables. A few options for hikers begin at the beach.
DIRECTIONS: From New London, take Rt. 11 to Sunapee. Before you get to town center, you turn left on Jobs Creek Rd which runs into Garnet St. Turn right and you can park in front of beach fence.
Sept. 24th— Hike and kayak around Grafton Pond in Enfield, NH
Leader/hosts, Bill & Kathy Coombs, 763-2307.
Grafton Pond is our favorite paddling place! If we are lucky, you may see baby loons!
DIRECTIONS: Grafton Pond. Take I -89 North to exit 12A to Rt. 114 to Springfield, N.H. Turn right on to George's Mills Rd, to 114 Springfield. About 1.5 miles, turn left on to Main Street. 1.7 miles turn right on to Bowman. Go one mile and turn right at 4 Corners Road. One mile up, turn left on to Rt. 4 A. In five miles, take a sharp right onto Grafton Pond Rd.
Keep going until you see the dam on the left and park as near as you can to the put in. Hikers will also go from there. Bring chairs and lunch to eat by water or take lunch with you in kayak to "ORFS Island."