Programs
Regularly Scheduled Ongoing Weekly Activities
Please check at bottom of page for any changes & special programs
---
Monday
Walking @ Proctor Academy
8:30AM - 10AM
Tom & Tom's
Men's Group
8:45AM
Chair Exercises
10:15AM
Duplicate Bridge (Bidding Boxes)
12:45PM
French Discussion Group
4:15PM
1st & 3rd Monday
Blood Pressure Clinic
9:30AM
1st Monday
Tuesday
Walking @ Proctor Academy
8:30AM - 10AM
Breakfast Club Book Discussion
9:30AM
2nd Tuesday
Memoir Writing Group
10 AM
​Walk In
RSVP Bone Builders Exercise Program
10:00AM
52 Newbury Heights, Newbury, NH
Outdoor Recreation for Seniors
10:00AM
(Call for schedule or see below for abbreviated notes)
Walk-in Painting
1PM
Parkinson's Support Group
1:00PM
1st Tuesday
Poker
2:00PM
Tai Chi Quan
​9:00AM
Wednesday
Walking @ Proctor Academy
​Theater House
8:30AM - 10AM
Duplicate Bridge
9:15AM
Hand & Foot Card Game
1:00PM
Tai Chi
2:30PM
Presbyterian Church, New London
​(not held in Aug)
Needle craft group from 1:00PM to 3:00PM
Thursday
Walking @ Proctor Academy
8:30AM - 10AM
Contract Bridge
9:30 AM
Bike Group
Varied AM Times (seasonally)
​Call or See COURIER
Humanist Discussion Group
1:30PM
3rd Thursday
Tai Chi Quan
​3:00PM
Friday
Walking @ Proctor Academy
8:30AM - 10AM
Women's Discussion Group
9:00AM
RSVP Bone Builders Exercise Program
10:00AM
52 Newbury Heights, Newbury, NH
Chair Exercises
10:15AM
Bingo
2:00PM
Foot Care Clinic
9:30 am TO 1:00 pm by appt.
1st and 2nd Friday of each month
Mahjong
12:30PM
Movie & Pizza Night
5:00PM
3rd Friday
Long Term Care Planning
2nd Fridays
​10:30 AM
---
Special Calendar Notes and Seasonal Events
April and May's schedules are loaded with fun and exciting events and programs, both inside the Chapin Senior Center, outside in the area communities we serve, and beyond...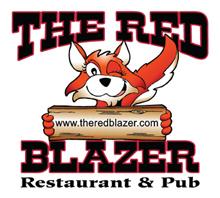 Join us for a Lunch Road Trip to The Red Blazer
This Concord, NH restaurant serves new American cuisine. They specialize in fresh seafood and hand cut steaks along with great pub fare, soups, salads and sandwiches.
Thursday, May 17th
COA will be covering the cost of the bus. Participants are responsible for the cost of their meals.
Please call COA at 526-6368 by May 14th to reserve your seat on the bus.
Limit of 14 people.
(Please park in the parking lot behind the daycare across the street from COA. Bus will pick up in this parking lot.)
Bus leaves COA at 11:15am.
Bubba's Bar & Grille
Join us at Bubba's in Newbury on Thursday, May 10th beginning at 5:00 PM for:
a fun and delicious fund raising dinner.
Proceeds from the dinner will benefit COA.
Reservations can be made by calling 763.3290.
Genealogy
Are you interested in learning more about your family history? Have you tried climbing your family tree without much success? Have you hit a brick wall in your research? Do you even know how to begin tracing your ancestry? Would you like to join one of the legacy societies: Mayflower, Daughters of the American Revolution, Sons of the American Revolution, etc.?
Marilyn Soper, a resident of New London and Newbury, is a member of the NH Society of Genealogists, a researcher at the NH Historical Society, and a volunteer at the NH Vital Records office in Concord. She is also a member of the General Society of Mayflower Descendants and of the Mercy Hathaway White Chapter of the Daughters of the American Revolution. As an amateur genealogist, she is willing to volunteer her time to consult individually or in small groups with those interested in doing their own genealogical research. While the goal would vary with each person's interests and desires, the hope would be to develop a documented family tree going back several generations or to complete the appropriate application for membership in one of the many legacy societies. Please call Karen at 526-6368 if interested.
Join your COA friends and fellow members for our first Progressive Dinner
~ Thursday, June 28, 2018 ~
We'll come together for cocktails and appetizers at the New London home ofCOA Board Chair Stan Bright, and his wife Pam ​between 5:00-6:00 PM
We will then join one of our ten hosts, at their lovely homes, where we will enjoy each other's conversation and company while dining in a more intimate setting between 6:30 - 8:30 PM
Then we will cap off this lovely evening with delicious dessert and coffee at the Chapin Senior Center from 8:30-9:30 PM
Kindly RSVP to Kelley or Karen directly at 526.6368 by June 8th, for this wonderful fund raising event for COA.
Each ticket is $100.
Individual itineraries will be mailed one week before the event.
We strongly encourage you to reserve your spaces, as we expect this dinner to be very popular, and capacity is limited.
Computer Class with Laura Thompson
Laura will holding computer class on April 7th from 9-11:00AM
Please call 526-6368 to register.
---
More info on our regular programs
Nick's Computer Classes
Nick is available for 30 minute, one-on-one sessions, for beginners to more experienced users.Learn to better use your laptop, tablet, or mobile device. Nick requests that you bring your device to your session. Please call the Chapin Senior Center at 526.6368 for an appointment.
April 3, 10, 17, and 24 from 9:00am to 11:00am, and then from 2:00pm to 4:00pm
Movie and Pizza Night
Friday, April 20th at 4:30pm "Wonder"
Based on the New York Times bestseller. "Wonder" tells the inspiring and heartwarming story of August Pullman. Born with facial differences that up to now have prevented him from going to a mainstream school, Auggie becomes the most unlikely of heroes when he enters fifth grade. As his family, new classmates, and the larger community struggle to find their compassion and acceptance, Auggie's extraordinary journey unites them all and proves you can't blend in when you were born to stand out. Please call the Chapin Senior Center at 526-6368 to sign up.
ORFS (Outdoor Recreation for Seniors)
This is an abbreviated schedule. For more details, including directions, please see our current newsletter, call the Chapin Senior Center, or contact the group leader(s) below. Thank you!
April 3rd, Hike/snowshoe/ski Northern Rail Trail from Lebanon, Bill and Kathy Coombs 763.2307
April 10--bowling at Maple Lanes, 125 Maple Ave. Claremont, NH 542-2400. Leader: Skip Hause, 339-440-2256.
Museum, 1 Depot Street, Warner, NH Leaders: Geneva French and Rosemary Silverberg, 748-4201
April 24-- Up Davis Hill road to Clark's Outlook in New London, Leaders Geneva French & Rosemary Silverberg 748-4201.
May 1-- Sugar River Trail in Newport-- leader Geneva French (cell 843-7370)
Morning Book Group
Tuesday, April 10th at 9:30am
The Soul of an Octopus by Sy Montgomery
Walk-in program
---
Special Activities
Please see our Courier newsletter or call the Chapin Senior Center at 603.526.6368 for these wonderful new events:

Sign up for a free 20-minute chair massage
Wednesday, May 9th, with appointments from 1:00pm to 3:20pm at the Chapin Senior Center. Chair massage has been shown to boost endorphins, loosen muscles, enhance blood circulation, improve balance and flexibility, reduce pain and encourage overall well-being. Call us at 526.6368 to schedule your appointment!
Rescheduled: Join us on March 29th for Thursday's Child
Join us for this wonderful annual tradition! Put together a group of friends and make reservations at the Coach House Restaurant for our annual Thursday's Child event in support of COA. This even earns critically important support for our organization. You can call the New London Inn directly at 603.526.2791 to make reservations.
Climate Action Work Group
Join with others on Thursday, April 12th from 12:30pm to 2:30pm to discuss climate action in the greater New London area. Want to do something but are not sure? New participants welcomed. Please contact Joy or Joe Kubit, local Elder Climate Action members, at 526.6678, joykubit@gmail.com, or jgkubit70@gmail.com. Please call the Chapin Senior Center to register.

Senior lunch March in Wilmot
Please join us at 11:30am for lunch at the Wilmot Community Association's Red Barn at 64 Village Road (next to the Wilmot post office). We will be coming together for lunch on March 15th. Please call the Chapin Senior Center at 526.6368 at least one week prior to the lunch date to reserve a meal. Suggested donations and fees include: Seniors (60+): $5.00 ($2.00 CAP lunch + $3.00 to WCA). 60 and under: $9.00 ($6.00 fee CAP lunch + $3.00 WCA). Open to all. Please remember to call COA to reserve!

How is your hand health?
Cindy Weinberger with Valley Regional Hospital will address common hand conditions such as carpel tunnel syndrome, trigger finger, and thumb arthritis. Learn how to identify the symptoms of these conditions and what treatments and therapies are available. Cindy is an occupational therapist and certified hand therapist. She specializes in the non-operative treatment of hand, wrist, and elbow issues. Please call 526.6368 to register.
Aging Discussion Group
Tuesday, May 22 at 9:00am. We invite you to join Dr. Jack Kirk in a continued discussion of Vesper Time: The Spiritual Practice of Growing Older by Frank J. Cunningham. Dr. Kirk will touch upon the challenges and rewards of growing older. Participants are encouraged to share their thoughts and experiences. Feel free to join us for this discussion group even if you haven't read the book! Please call COA at 526-6368 to register.
Energy Environmental Expo
Saturday, April 7, 2018 10 am to 3 pm
Mercer Gym, Colby-Sawyer College, New London, NH. This event is co-sponsored by the New London Energy Committee and the Kearsarge COA Climate Action Group. Come take a look at the future of sustainable living! Learn about energy efficiency, solar and renewable energy, recycling and composting, electric lawn and garden equipment, and other ways to reduce your carbon footprint. It's the first step to adopting a sustainable lifestyle for the health of our planet. The expo will feature student research presentations, commercial presenters, and nonprofit environmental groups.
Future editions of The Courier
Yes, we will be moving to an online edition sometime this year, but we won't be leaving behind those who wish to read The Courier in print. Both digital and paper versions will be available, and we have plans to install a large computer screen at the Chapin Senior Center for those who wish to scroll through our events and online calendar. We will send hard copies upon request. Please provide us with your preferred email, by either giving it to the front desk volunteer at the Chapin Senior Center, or by calling the Chapin Senior Center.
Unless noted, all programs are held at the Chapin Senior Center at 37 Pleasant Street, New London