#alonewestaytogether
Greetings from Kelley, Karen and Sharon!
May 20
We can't wait to see you! While visiting COA we ask that you wear a mask to keep yourself and others healthy and protected. Here's a quick lesson on the proper use of a facemask. See you soon!
May 12
Social distancing may be necessary right now, but it certainly can be challenging as time goes on. Here are a few suggestions for staying in touch with your friends, staying fit, and keeping your brain sharp!
For those of you who are fans of Louise Bailey's Chair Exercises at COA (and who isn't!), Louise, along with Pam Sanborn, has created a video you can follow at home.http://fbcnlnh.org/exercise-at-home-with-pam-sanborn/ . Thank you to Louise, Pam and the First Baptist Church of New London!
Learn Yoga in the comfort of your own home. Yoga is great for all ages and keeps us fit, limber and relaxed! Karen recommends Yoga with Adrienne on YouTube. https://www.youtube.com/
Zoom is an easy to use video conferencing website that lets you stay in touch with family and friends. You'll have the chance to see a new grandchild or be involved in a special family event! https://zoom.us/
Crosswords puzzles are perfect for keeping our brains challenged. Try your hand at https://puzzles.usatoday.com/
May 6
A big THANK YOU to Greta and the Kearsarge Neighborhood Partners for their very generous donation of homemade cloth masks! These masks will help keep our members and volunteers safe during their visits to COA. Thank you Greta and KNP for your partnership and support!
April 27th
Today was all about "The New Normal". We had a wonderful discussion about how to welcome you all back safely when it is time. It's safe to say things have changed for the unforeseeable future. We want to bring you back to the COA you love, but it will be done in a safely phased manner. It may even involve programs held in the parking lot on a beautiful summer day! We have lots of good ideas for keeping you safe, but still keeping you engaged, socializing, and having fun!
Remember, on Mondays and Wednesdays from 9:00am to 1:00pm you can call us with questions or concerns. We're available via email Monday through Friday.
More to come! Stay well!
April 20th
IT'S NATIONAL VOLUNTEER WEEK!
We thank each and every one of the exceptional volunteers who bring so much of themselves to the Chapin Senior Center. You are the heart of our community and add so much to the lives of those around you. Please know you are valued and so very much appreciated. We miss you and can't wait to see you!
_________________________________________________________
We thought you'd like to see some of the modifications we're making at COA to keep members, volunteers and staff safe. We might not be certain when we'll re-open, but we're working hard to make sure we'll be ready when it happens!
April 13th
Welcome to Week 4! We have added more information to the website regarding at-home delivery - check out Spring Ledge Farm! We've also added new information and procedures for the KLS Food Pantry.
We look forward to welcoming our volunteers back to COA. They provide invaluable programs and services to our members. We appreciate you!! We're not certain of our re-opening date at this time, but we will keep you all informed. The Bike Group is hoping to start the season on May 7th. The tentative schedule is posted on the "ORFS/Bike" page.
Please feel free to reach out to us via email (email addresses can be found on the "Contact Us" page of this website) should you have any questions or concerns we may be able to assist you with. We'll refer you to the appropriate resources.
Stay well!
April 6th
Gratitude Roll Call! Shout out to our all our partners, emergency personnel, doctors, nurses, LNA's, service workers, grocery store employees, truck drivers, and all those folks on the front lines! We're still here at COA keeping the home fires burning! It's our goal to do as much behind-the-scenes preparation for a strong return. We're looking forward to the day we open our doors to welcome our members, volunteers and the public. We're continuing to update the website to provide resources and information. Always looking for creative solutions to shopping, transportation, etc.
March 30th
We're happy to report we have spoken to many of you via phone and email. You all seem to be doing well under such difficult times. Friendships made here at COA are extending beyond our walls. We have have heard of on-line bridge and poker games, along with friends and neighbors reaching out to one another. We've added additional information and resources below. This week Gov. Sununu issued a stay-at-home order that will last through May 4th. It is recommended that residents only leave their homes for essential purposes such as grocery shopping and picking up prescriptions. Remember social distancing and hand washing are essential should you have to leave your home. Most stores have social distancing indicators on the floor at the check to help us remember to be safe.
Take a look at the ORFS page on this website for pictures of some fun outdoor activities!
Please remember we're thinking of you! Be well!
March 23th
Today starts week two of unprecedented times for our country and certainly our COA community. We are committed to supporting each other. Today we will begin phone calls to combat social isolation - you might hear from us! We can't guarantee we can solve all your problems, but we're attempting to work with our community partners and resources in addressing your needs.
Please continue to visit this website as we will be adding new resources and information as it becomes available.
Stay safe and healthy!
"I parked at COA today and took a walk around the school grounds. I saw the equipment on the porch. That was a very thoughtful thing to do. Just another example of why we love you! " - kind words from a COA member
____________________________________
THE CHAPIN SENIOR CENTER WILL BE CLOSED UNTIL FURTHER NOTICE IN RESPONSE TO THE COVID-19 OUTBREAK. WE ARE DOING DUE DILIGENCE IN PROTECTING OUR MEMBERS, VOLUNTEERS AND STAFF.
PLEASE CALL 211 FOR UPDATED COVID-19 INFORMATION OR VISIT THE CENTERS FOR DISEASE CONTROL AT www.cdc.gov.
IF YOU ARE EXPERIENCING AN EMERGENCY CALL 911.
PLEASE VISIT THIS WEBSITE REGULARLY FOR UPDATES.
_____________________________________
THERE WILL BE NO COA TRANSPORTATION SERVICES DURING THIS TIME. HOWEVER, THE SERVICES LISTED BELOW MAY BE OF ASSISTANCE.
* UBER/JANE WARREN: 486-8778
* DON'S TRANSPORTATION: 526-2197
* Your town offices for possible volunteer services
_______________________________________________________
MEDICAL EQUIPMENT
Please feel free to take the medical equipment we have made available on the front porch of our building at 37 Pleasant Street, New London. Equipment may be kept for two weeks. Please call COA if you would like to renew for additional time. Please thoroughly clean each piece of equipment before returning.
_______________________________________________________
DELIVERY SERVICES
Please call your local restaurants to inquire about delivery or take out service.
Check WMUR-TV for a list of restaurants and food service establishments that are open.
Spring Ledge Farm offers "Drop and Dash" - Order online at springledgefarm.com. Minimum order of $35 for free delivery.
Wildwood Smokehouse in Sunapee provides curb-side pick up. Call 603-763-1178 to order and pay.
As of Wednesday, March 18th Meals on Wheels is continuing meal delivery.
KLS Food Pantry - 526-6511
The Kearsarge Lake Sunapee (KLS) Community Food Pantry, located at the First Baptist Church, 461 Main Street in New London is open on Wednesday 5:30 to 7:00PM and Saturday 10:00 to 11:30 AM. We serve people from Andover, Bradford, Danbury, New London, Newbury, Salisbury, Springfield, Sunapee, Sutton, Warner and Wilmot. During this time of the coronavirus people are asked to stay in their cars and line up at the pantry in the rear of the Church. A volunteer will help you with your order. We hope to be able to provide food to all who need assistance during this difficult time. New clients are welcome. For information: Marilyn Paradis: mdparadis@icloud.com or Clara Sheehy: clarabema@comcast.net
Kearsarge Neighborhood Partners - KNP will pick up pre-ordered groceries and meals from Spring Ledge Farm in New London, Sweet Beet in Bradford, and The Kitchen in Andover. Please sign up at KNPNH.org.
Colonial Pharmacy, Walgreens, and RiteAid offers drive-up prescription services.
Walmart in Claremont and Tilton have an on-line ordering system and an outside pick up area.
Amazon provides home delivery.
_______________________________________________________
ADDITIONAL ASSISTANCE
Fee for Service Home Providers:
Hearts to Hands - Margaret Wulff - 603-344-4484 Food delivery possible
Retired Social Worker Offering In Home Services - Diane Koller - 603-717-8080
Senior Companion Program - Jane Cote - 603-225-3295
Trash Removal - Paul Mathewson/Millennial Moving Solutions - 603-748-2034
Towns:
Danbury food pantry - 768-3424
South Newbury Union Church - 938-5369 162 Village Road, South Newbury Open Monday through Friday 11:00am - 1:00pm and 6:00pm - 7:00pm
Project Sunapee - Help with grocery shopping, prescription pick up, or other essential errands. Please email info@projectsunapee.org.
Town of Sunapee food pantry - 763-2212 If you need financial assistance call Laura Trow, Welfare Officer, at 369-9896 Monday through Friday during town office business hours.
Eastman - over 30 of your neighbors are ready and willing to help, and Bill Matson would be happy to arrange whatever support you need as you follow the advice to self-quarantine. Please feel free to call Bill at 914-384-4236, and he will be happy to make the arrangements.
Sutton Trinity Bible Church Food Pantry - 927-4384
Free non-perishable food is available at the Sutton Fire Department. The food trailer is open every day from 7:30am - 5:00pm. Anyone needing food is encourage to take what they need.
Sutton residents needing assistance with prescriptions or groceries can call the Sutton Police Department at 927-4422. Phone calls will be returned within 24 hours.
Town of Wilmot - To make an appoint for a Food Pantry visit call 568-2607.
Grocery Stores:
Market Basket is open 5:30am to 7:00am Tuesday, Wednesday and Thursday for seniors ages 60 and above.
Shaws is open 7:00am to 9:00am Tuesday and Thursday for seniors.
Price Chopper is open 6:00am to 7:00am everyday for seniors.
Hannaford is open 6:00am to 7:00am Tuesday, Wednesday and Thursday for people 60 and over. The Franklin Hannaford provides on-line ordering and payment. Ordered items can be picked up at the store.
Service organizations:
New London Hospital website and wellness related resources for food, virtual programs and so much more! www.newlondonhospital.org/health-wellness/
Kearsarge Neighborhood Partners - 603-317-5900x 1 www.knpnh.org
KNP can arrange a pickup and drop off of groceries or prescriptions. They can also help with light yard work/outdoor repairs, bereavement issues and assist families in getting help through these difficult times.
Loaves & Fishes - 526-4484
KLS Food Pantry - 526-6511 (Delivery is available)
KREM - 526-6511
ServiceLink - 228- 6625
United Way has community economic relief funding. They can help with housing, food or rent. They can be reached at 1-866-211-9966.
NH Community Mental Health Center's Referral, Education, Assistance & Prevention Program - 603-957-5913
Listen Community Services Food Pantry - 448-4553 60 Hanover Street, Lebanon Open Monday - Friday 9:00am - 5:00pm Open to ANY person in need of food. No appointment required.
Miscellaneous Services:
Nail care: Stacy Nails - 526-2352
COVID 19 Information and Updates:
Department of Health and Human Services - 271-9700
211 COVID-19 Update
CDC for older adults: https://www.cdc.gov/aging/covid19-guidance.html
_______________________________________________________
Lake Sunapee Region VNA & Hospice Closings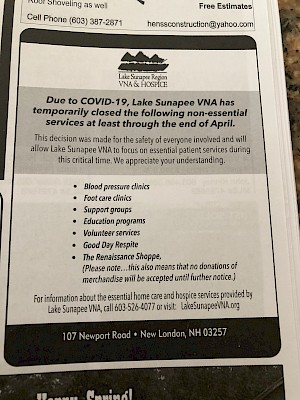 _______________________________________________________
A very special thank you to Carroll Concrete and Spring Ledge Farm for sponsoring COA's "Stay at Home' Gala!
_______________________________________________________
Welcome!
This website is your portal to a wonderful world of wellness, community engagement, and information about healthy aging in our greater Kearsarge community.
On behalf of our board of trustees, hundreds of dedicated volunteers, and my staff colleagues, I welcome you to our COA website.
We are grateful and honored to serve our senior population in nine local communities and welcome your ideas about programming, activities, and services.
We are a community of like-minded neighbors who help each other live healthy and happy lives in our beautiful Lake Sunapee area. Our Chapin Senior Center is our hub for social interaction, volunteerism, lifelong learning and exploring, healthy aging, and a source for referrals to other organizations and agencies that best meet your needs.
---
We do this through our 50+ programs and activities, our transportation and mobility equipment services, and our many social and recreational events throughout the year, both solo and in partnership with other community organizations like the Lake Sunapee VNA, local town recreation departments and libraries, and our other partners and collaborators.
We are the main portal of information through which you can begin to seek help, guidance, and information about the second half of life in the Granite State!
We ARE NOT a social services agency in the classic definition of the word, as many important elder services are not directly provided by COA. Rather, we are happy to inform you on where to best find important services like Meals on Wheels and long-term care, as examples.
I invite you to drop into the Chapin Senior Center, speak with me or any of my volunteer or staff colleagues, and find out how to open up a world of healthy living in our beautiful part of New Hampshire.
In the meantime, please enjoy the wonderful resources offered here in our website. You can always email me at kelley@coachapincenter.org.
Be well,
Kelley Keith
Executive Director
---
About us:
Our Kearsarge Area Council on Aging: People Helping People
COA responds to as many unmet needs in our community as possible, understanding that we are not a traditional "agency"-style service organization, but rather an organization founded on the principle that social engagement is the centerpiece to living a healthy and happy life.
We do offer a couple basic human needs, such as transportation, health related services and education, and nutrition programs.
COA has grown to a full time senior center, meeting many varied and daily needs of area elders, emphasizing social enrichment and interaction.
The Center is open 12 months a year, 9am to 4pm Monday through Friday, closed on Federal Holidays and during Kearsarge Area School closings.
COA serves the residents in Andover, Danbury, Grantham, Newbury, New London, Springfield, Sunapee, Sutton and Wilmot and was founded in 1992.
In addition to almost 50 seasonal programs, activities, and services offered at the Chapin Center, COA partners with area organizations to expand services and programs throughout our nine-town service area. We have a volunteer force of over 142 dedicated individuals and a membership of over 2,800 people. Volunteers contribute more than 4,700 hours of services annually. The transportation program's volunteer driver corps drove over 27,000 miles in 2018, providing rides from important health and wellness visits, to picking up the week's groceries.
COA keeps the community informed on topics of interest to seniors and upcoming events each month. Being a focal point in the senior community allows the COA to function not only as a social and educational hub, but also as an information ​and referral base.
COA is a charitable, non-profit 501(c)(3) organization and operates in a good standing with the State of New Hampshire's Attorney General's Office.